Crisis in America
September 11, 2001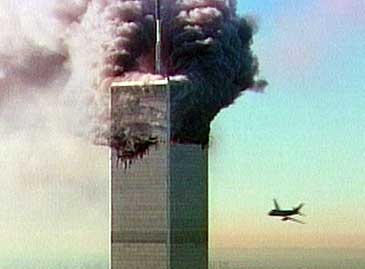 AP Photo/ABC via APTN
Tuesday, Sept. 11 After a hijacked jet tore through the north tower of the World Trade Center, another followed, striking the south tower 18 minutes later.

To View more photos click on link http://www.bergen.com/

AP Photo/Tom Horan

A helicopter flies over the burning Pentagon in Arlington, Va. The Washington Monument can be seen at right, through the smoke.


Thursday, September 13, 2001
The three firefighters who hauled up the flag
Firemen raising a flag Tuesday where the World Trade Center once stood. (THOMAS E. FRANKLIN/THE RECORD)

http://www.mcall.com/html/news/top/a_pg001a1_5missing.htm Jessica Bove of Middle Island, N.Y., looks for information about her cousin Richard Bosco, who was on the 105th floor of the World Trade Center's north tower when it was attacked. She joined the throng at the Armory in Manhattan, where names were recorded. (Don Fisher/TMC)

New York
Hijacked planes strike Twin Towers. Left photo.

Washington
Attack on the Pentagon. Top right photo.

Reaction
President Bush leads world's response. Bottom right photo.



Day 5 9/15/01Small memorials have been placed around the Pentagon in the early morning.


Day 5 9/15/01
candlelight vigil and memorial continues in the early morning hours at Union Square.
- Greeneville, TN Uniting In Prayer
In the aftermath of this week's national tragedies in New York, Washington and Pennsylvania, Greene Countians reached out to Almighty God — and to each other — and prayed in many locations at the noon hour on Friday.
Stockton, California :The American Spirit Lives On
As this picture shows, even in the face of tragedy and despair, the American spirit lives on.


Germany
All over the world People have come together.......

China Refutes US Reports on China-Taliban Ties